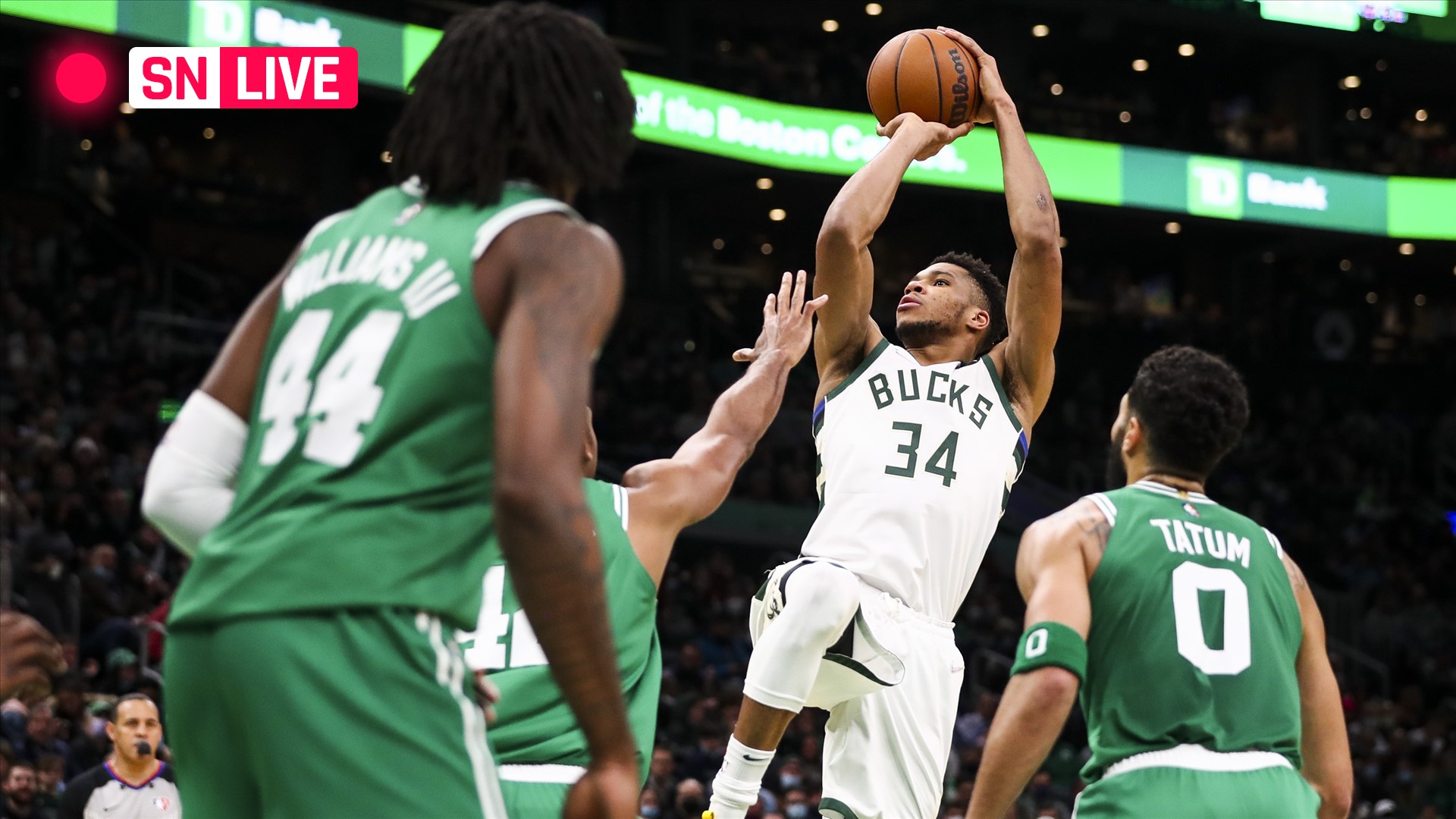 The Bucks host the Celtics in the second of five NBA games on Christmas Day.
It marks the third meeting between the two teams this season. The first was a thriller, with the Celtics defeating the Bucks in overtime, led by Dennis Schroder's season-high 38 points. The Celtics won the second comfortably behind a season-best 42-point performance from Jayson Tatum.
The Bucks were facing the possibility of Giannis Antetokounmpo not playing on Christmas Day as he only cleared the NBA's COVID-19 health and safety protocols on Friday, but the two-time MVP is returning to action.
Antetokounmpo is averaging 27.0 points, 11.6 rebounds, 5.8 assists and 1.6 blocks through 26 games this season.
Milwaukee Bucks star Giannis Antetokounmpo is expected to make his return to the lineup vs. Boston today (2:30 PM ET, ABC), sources tell ESPN. After 10 days in protocols, the two-time MVP had a strong workout on Friday and — barring a setback — is expected to be available.

— Adrian Wojnarowski (@wojespn) December 25, 2021
The Sporting News is tracking live updates and highlights from the Christmas Day matchup between the Celtics and Bucks. Follow for complete results.
MORE: Watch Celtics vs. Bucks live with Sling TV
Celtics vs. Bucks live updates, highlights from NBA Christmas game
Celtics vs. Bucks on Christmas Day score

| | | | | |
| --- | --- | --- | --- | --- |
|   | 1 | 2 | 3 | 4 |
| Celtics | 35 | 27 |   |   |
| Bucks | 22 | 25 |   |   |
Halftime: Celtics 62, Bucks 47
3:41 p.m. — A buzzer-beating 3 from George Hill trims the deficit some but the Celtics take a 15-point lead into the halftime break.
The Celtics, who are shooting 10 of 23 (43.5 percent) from deep, are led by 19 points from Jaylen Brown. Jayson Tatum has added 13 points and Payton Pritchard has scored 11 points off the bench.
Khris Middleton's 11 points lead the way for the Bucks, while Giannis Antetokounmpo has scored seven points (on 3 of 8 shooting) in his return to action.
3:36 p.m. — Boston 3 party!
The Celtics have now drained 10 triples in the first half, just two shy of their season average. That … has been a problem for the Bucks and the difference so far in the game.
3:32 p.m. — The Bucks are clawing back into it!
Khris Middleton sinks his third triple of the game to cut the deficit to 10 and the Celtics call for a timeout. Middleton's up to 11 points in the game.
Boston leads 52-42 with 1:55 left in the first half.
Jaylen Brown leads all scorers with 17 points while second-year guard Payton Pritchard is up to 11 points and four assists in 16 minutes off the bench.
3:26 p.m. — After trailing by as many as 19 points, Milwaukee is looking to make the halftime deficit more manageable.
A potential obstacle is foul trouble, as Giannis Antetokounmpo has picked up his third foul with more than five minutes left in the first half.
3:14 p.m. — A triple from Jayson Tatum gives the Celtics a 16-point lead and Mike Budenholzer signals for another Bucks timeout.
Boston leads 40-24 with 9:56 left in the second quarter.
Tatum now has five points on the game and the Celtics are now 5 of 11 from deep.
3:11 p.m. — Jaylen Brown sustained a chipped tooth but is available to return.
Jaylen Brown has a chipped tooth but is available to return.

— Jay King (@ByJayKing) December 25, 2021
End of First Quarter: Celtics 35, Bucks 22
3:07 p.m. — One quarter's in the books and the Celtics have made a strong statement.
Behind Jaylen Brown's 14 points, Boston leads by 13 points after one quarter. As a team, Boston is shooting 57.7 percent from the field, including 4 of 9 from deep.
Brown exited the game and headed to the locker room after an incidental blow to the face from Jayson Tatum.
Jaylen Brown headed to the locker room is not what the Celtics need. Caught a forearm to the face from Jayson Tatum on a rebound. Hopefully Brown is alright. Off to a great start today.

— Keith Smith (@KeithSmithNBA) December 25, 2021
The Bucks, who are shooting 10 of 24 from the field, are led by seven points from Giannis Antetokounmpo.
2:58 p.m. — Thanks to a hot start, the Celtics have built a double-digit lead as the first frame comes to a close.
Boston leads 31-16 with 2:46 left in the quarter.
Jaylen Brown leads all scorers with 14 points on 6 of 7 shooting, while the Celtics are shooting 13 of 20 from the field as a team.
The Bucks, on the other hand, are shooting 7 of 18 from the field early on. In his return to action, Giannis Antetokounmpo has three points on 1 of 5 shooting. 
Fittingly, his first field goal was a dunk.
2:45 p.m. — Boston gets out to a quick seven-point lead, causing Mike Budenholzer to signal for an early timeout.
Celtics lead 12-5 with 9:16 remaining in the first quarter.
2:41 p.m. — A 3 from Romeo Langford gets the Celtics on the board first and the Christmas Day festivities are underway in Milwaukee.
Pregame
2:15 p.m. — Donte DiVincenzo looks ready for his first NBA action since May 27.
12:42 p.m. — The Celtics have announced that Dennis Schroder has entered health and safety protocols. He will not play on Christmas Day.
11:54 a.m. — According to ESPN's Adrian Wojnarowski, Marcus Smart (hip contusion) will be a gametime decision.
11:30 a.m. — Bruno Fernando, Enes Freedom, Sam Hauser, Justin Jackson, CJ Miles, Aaron Nesmith, Josh Richardson and Grant Williams are each out for the Celtics. Only Brook Lopez is listed out for the Bucks.
9:59 a.m. — Good news for the Bucks: Donte DiVincenzo will make his season debut against the Celtics today, per The Athletic's Shams Charania.
How to watch Celtics vs. Bucks on Christmas Day
Date: Saturday, Dec. 25
Time: 2:30 p.m. ET
TV channel: ABC
Live stream: Watch ESPN | Sling TV
NBA Christmas Day schedule
The five games are split between ESPN and ABC. All times below are in Eastern Standard Time.
TV Schedule for NBA on Christmas

| | | |
| --- | --- | --- |
| Time | Matchup | Channel |
| 12:00 p.m. | Hawks at Knicks | ESPN |
| 2:30 p.m. | Celtics at Bucks | ABC |
| 5:00 p.m. | Warriors at Suns | ABC |
| 8:00 p.m. | Nets at Lakers | ESPN |
| 10:30 p.m. | Mavericks at Jazz | ESPN |
You can stream all of the action on Sling TV.