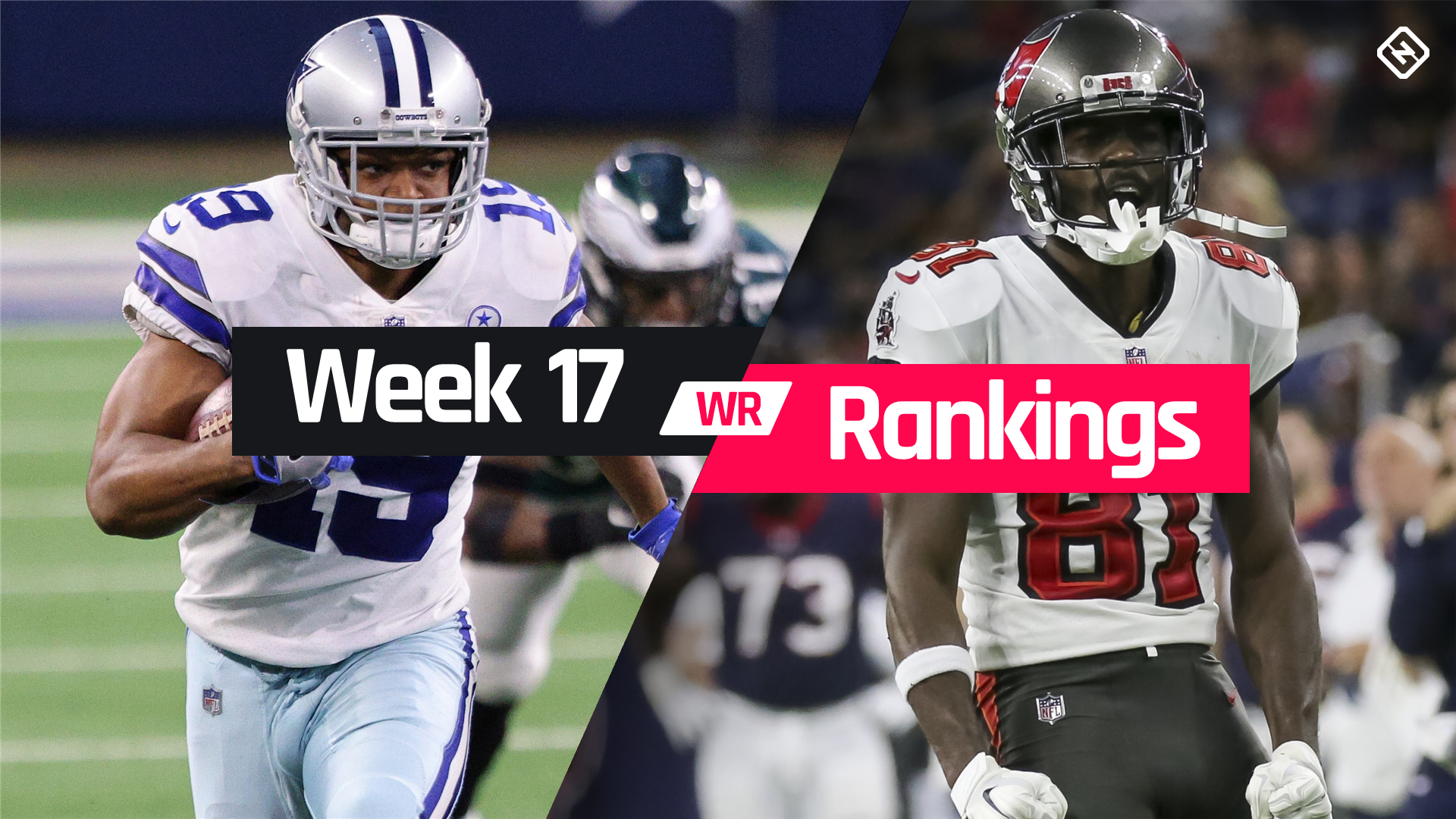 Rank
Player
1
Cooper Kupp, LAR @ BAL
2
Davante Adams, GB vs. MIN
3
Deebo Samuel, SF vs. HOU
4
Justin Jefferson, MIN @ GB
5
Stefon Diggs, BUF vs. ATL
6
Jaylen Waddle, MIA @ TEN. See DeVante Parker.
7
Mike Evans, TB @ NYJ
8
Tyreek Hill, KC @ CIN
9
Keenan Allen, LAC vs. DEN
10
Tyler Lockett, SEA vs. DET. See DK Metcalf.
11
Antonio Brown, TB @ NYJ
12
Brandin Cooks, HOU @ SF
13
D.J. Moore, CAR @ NO. There's obviously a lot of uncertainty at the quarterback position for Carolina, but Moore has at least produced a little bit, and New Orleans is a top-10 matchup for fantasy WRs. Sam Darnold getting more playing time actually helps Moore, as it was Darnold at QB when he got off to the explosive start this season. He could bust if QB play is awful, but he's commanding a lot of targets and is due for a breakout game in a favorable matchup. Robby Anderson is more of a safe-floor guy lately, so he doesn't have the upside of Moore, but he has a similar floor and can be played purely because of the matchup.
14
A.J. Brown, TEN vs. MIA. Is Brown officially back? It's tough to look at his 16 target, 11 catch, 145 yards, and a touchdown performance against the 49ers and think otherwise. He commanded an incredible 55-percent target share, so if you had any worries last week about starting him, those are all gone. Miami has allowed the fifth-most fantasy points to WRs this season, so his ceiling is once again a top-five finish. We try not to overreact too much to one game though, which is why we place him as a high-end WR2. Miami has several defensive backs who are far better than anybody the Niners have. Julio Jones is the definition of a risky start, but if Miami puts all of its defensive attention on Brown, could we see Jones finally show out? It's a tough call in the fantasy championship, so we'll leave that decision to you.
15
Diontae Johnson, PIT vs. CLE. Johnson can only do so much if Ben Roethlisberger is having a bad day, but his absurd target figures always keep his ceiling high, even in a tough matchup with Cleveland. He's always been a better PPR option, but he's scored seven touchdowns this season, so he can produce a WR1 finish in standard leagues. too. Chase Claypool should be viewed as purely a standard league TD-or-bust option in this matchup.
16
DK Metcalf, SEA vs. DET. It's easy to get excited about Metcalf if you just watched the highlight of his long touchdown against the Bears, but he caught just two-of-five targets for 41 yards, so he's still very much a risky play. That said, it's tough to bench him in against the Lions, but we won't pretend like he can't bust. He's a better standard league option since he's a big-play-dependent player, so be a little more cautious in PPR leagues, but the upside is there. Tyler Lockett is the better play here, but neither guy has a safe floor by any means.
17
DeVonta Smith, PHI @ WAS. We know by now Smith is far from safe but after a five-catch, 80 yards, and a touchdown game against the Giants, perhaps he'll carry some momentum into a rematch with Washington. Washington came into Week 16 allowing the fourth-most fantasy points to WRs, and we all saw what happened on Sunday night when it surrendered 42 points in the first half. The Eagles' are just fine running the ball all game long until the clock hits zero if they can, though, so Smith will have to get it done with efficiency rather than volume, That has been the case all season long.
18
Ja'Marr Chase, CIN vs. KC. Kansas City is one of the top-12 teams against fantasy WRs, but there are zero reasons to bench Chase or Tee Higgins coming off nuclear performances against the Ravens. Joe Burrow is playing like one of the best quarterbacks in the league right now, so neither of the two wideouts are benchable, in any matchup — ever. Tyler Boyd draws some starting consideration in what could be a shootout, but since the target competition is so stiff, he never has a safe floor.
19
Tee Higgins, CIN vs. KC. See Ja'Marr Chase.
20
DeVante Parker, MIA @ TEN. Tennessee allows the second-most fantasy points to WRs, so while its defense has looked impressive at times, that has all been a product of their front seven. Tua Tagovailoa gets the ball out quick, so Jaylen Waddle and Parker are better suited for PPR leagues, but in such a great matchup, we Waddle as a WR1 and Parker as a WR2.
21
Elijah Moore, NYJ vs. TB. Moore (quad) is expected to play for the first time since Week 13 and can get it done here with efficiency and/or volume, so while the Tampa Bay defense could crush Zach Wilson, the upside outweighs the risk here. Moore was the WR2 from Weeks 9 to 13, so don't play scared in the fantasy finals, especially if you're a big underdog. If he remains out, Jamison Crowder and Braxton Berrios are decent PPR play with far lower floors.
22
CeeDee Lamb, DAL vs. ARI. The Cowboys' offense has been hot and cold and even an offensive explosion against Washington, it was Amari Cooper who led the Cowboys' in receiving yards. We still think Lamb is the more desirable guy to play, but both have a ton of upside. They're lower than usual in our rankings because you never know which Dallas offense is going to show up. All that said, we wouldn't be surprised if Lamb or Cooper had WR1 weeks if this turns into a shootout. As always, Michael Gallup draws flex consideration, but he's never guaranteed a ton of looks with the stiff target competition.
23
Odell Beckham Jr., LAR @ BAL. Beckham has scored four touchdowns since joining the Rams but has also failed to reach 40 receiving yards in four-of-six games with the team. That said, his upside isn't super high, which makes sense with Cooper Kupp hogging so many targets. That said, Baltimore has probably been the worst defense in all of football over the past couple of weeks, and we just saw Tee Higgins, Ja'Marr Chase, and Tyler Boyd go off against its secondary. If that trio of wideouts could all end up with monster fantasy days, Kupp, Beckham Jr., and Van Jefferson can too.
24
Brandon Aiyuk, SF vs. HOU. Houston is just a neutral matchup for WRs, but the Niners should score plenty of points here, and Aiyuk now has five touchdowns on the season and has been efficient with the limited targets he's been getting. It's tough to see San Francisco throwing the ball much in the game, but the deep passing game and YAC opportunities make Aiyuk an appealing play at WR2 or flex. His floor isn't safe if game conditions aren't on his side, but his upside is always high against a lackluster Texans defense.
25
Amari Cooper, DAL vs. ARI. See CeeDee Lamb.
26
Terry McLaurin, WAS vs. PHI. McLaurin's floor is as low as it has been in quite some time thanks to Taylor Heinicke's struggles, and ultimately, if there was ever a time you could have a decent case for benching one of our top-26 wideouts, this would be it. However, if Heinicke even plays decent here, McLaurin should continue to be a target hog and as the only stud pass-catcher for Washington, his upside remains at least somewhat high.
27
A.J. Green, ARI @ DAL. Green, along with Christian Kirk, are boom-or-bust wideouts in a struggling Arizona offense. They'll match up with a Dallas defense that has allowed the 10th-most fantasy point to WRs, but it's tough to know whether Green or Kirk is the better play. They've rarely produced at the same time, so more often than not, one will produce while the other busts, Kirk probably has the safer floor, while Green has the red-zone touchdown upside fit for standard leagues.
28
Darnell Mooney, CHI vs. NYG. Mooney has drawn at least five targets in 14 of 15 games this year, and we know his speed always sets up for a potential home-run ball. That said, he has a safe PPR floor with real standard league upside, so he's attractive in both formats at the flex. The Giants are a top-12 matchup for WRs, so perhaps he can turn in a WR2 finish. Allen Robinson has finally been activated off the reserve/COVID list, but we're not worried Mooney will lose a ton of targets. Robinson should be viewed as a desperation deep league play.
29
Amon-Ra St. Brown, DET @ SEA. Seattle is strong against fantasy WRs, but St. Brown's production has been far too strong to ignore. With Tim Boyle at QB, he caught nine-of-11 targets for 91 yards and a touchdown against the Falcons. In the three games before that, he drew at least 11 targets, caught at least eight passes, and scored two touchdowns during that span. Whether Boyle or Jared Goff starts, we don't think you can bench a red hot receiver in the championship. Josh Reynolds is a deep-league play with real upside, but his floor and ceiling are a step or two below St. Brown's
30
Hunter Renfrow, LV @ IND. Renfrow has caught just six passes on eight targets for 72 yards over the past two weeks, so it's tough to view him as a high upside WR2 anymore in a neutral matchup with the Colts.
31
Michael Pittman Jr., IND vs. LV. Las Vegas is a top-five defense against fantasy WRs and Pittman Jr. was just the WR50 from Weeks 10 to 15 in standard leagues. His deep receptions haven't been as prevalent and the touchdowns aren't coming lately, either. However, we still do think he has upside, but in a run-first offense, he's now too dependent on big plays.
32
Julio Jones, TEN vs. MIA. See A.J. Brown.
33
Van Jefferson, LAR @ BAL. See Odell Beckham Jr.
34
Adam Thielen, MIN @ GB. Thielen was virtually a must-start thanks to his touchdown upside, but since he's dealing with an ankle injury, his ceiling is limited. We still like him over some fringe flex options, but he's about as risky as he's been since he broke out a few seasons ago. This could set up to be a shootout like the first meeting between these two teams, so he's a high-risk, high-reward option.
35
Marquez Valdes-Scantling, GB vs. MIN. If MVS clears COVID protocols, he's a tremendous boom-or-bust play against the best matchup for WRs. His upside is 100-plus yards and two touchdowns, and he can be the reason you win the fantasy title. Of course, he could also flame out with a 3-40-0 line, so play him at your own risk, but there are no streamers with more upside. If he's out, Allen Lazard should be viewed in a similar light, but with a bit less upside.
36
Christian Kirk, ARI @ DAL. See A.J. Green.
37
Robby Anderson, CAR @ NO. See D.J. Moore.
38
Marquise Brown, BAL vs. LAR. Brown has commanded seven-plus targets in each of his past four games, but he's only put up 55, 41, 43, and 44 yards in those contests. Even if Lamar Jackson (ankle) comes back for this game, we can only view Brown as a high-ceiling option in PPR, with limited upside. His hot start to the season appears to be an outlier and an aberration, so while you can certainly hope for him to have his first WR1 finish since Week 5, don't expect it. Rashod Bateman is now the deep-threat X-receiver, but he essentially has no real floor.
39
Kenny Golladay, NYG @ CHI. Golladay and Kadarius Toney have virtually no floor, but their ceilings should be raised in a top-six WR matchup. We understand the anxiety it'll cause fantasy owners to play them in the finals, but they are worth a dart throw if you're hurting at WR.
40
Jamison Crowder, NYJ vs. TB. See Elijah Moore.
41
Emmanuel Sanders, BUF vs. ATL. Sanders was shown up by Isaiah McKenzie's nuclear performance against the Patriots, but since Gabriel Davis and Cole Beasley could remain out on the reserve/COVID list, both are strong flex options against the Falcons. We all know Atlanta hasn't been able to stop WRs in years, so Sanders and McKenzie both have at least WR2 upside in the Bills' deep passing game. If Beasley plays, he's a decent PPR play, but he doesn't have the deep-shot acumen of Sanders or McKenzie, thus his upside is capped.
42
Kendrick Bourne, NE vs. JAX. Bourne is a touchdown-or-bust option in a matchup that should mean a strong Patriots' ground attack. That said, the passing volume likely won't be there, so he'll have to "luck" into some end zone targets in all likelihood. Jakobi Meyers is an OK play in PPR leagues, but again, the passing game will be low-volume here, and that's the only way Meyers gets it done.
43
Kadarius Toney, NYG @ CHI. See Kenny Golladay.
44
Jarvis Landry, CLE @ PIT. The Steelers present a fairly favorable matchup for wideouts, but the Browns' passing attack is not to be trusted, even in the most favorable situations. Expect the Browns to try to win this game with Nick Chubb, and since Landry isn't much of a deep threat, he's only really attractive in PPR leagues. Donovan People-Jones is a standard league boom-or-bust play, but he's difficult to trust with so much on the line.
45
Jakobi Meyers, NE vs. JAX. See Kendrick Bourne.
46
Russell Gage, ATL @ BUF. Gage's ceiling will be limited by the strongest defense against fantasy WRs, so unlike in PPR leagues where a WR can have a decent day with volume, he's not a great standard league play here. He could get a touchdown in garbage time, but we're not banking on that at such a crucial time in the playoffs.
47
Cole Beasley, BUF vs. ATL. See Emmanuel Sanders.
48
Allen Robinson, CHI vs. NYG. See Darnell Mooney.
49
Chase Claypool, PIT vs. CLE. See Diontae Johnson.
50
Isaiah McKenzie, BUF vs. ATL. See Emmanuel Sanders.
51
Michael Gallup, DAL vs. ARI. See CeeDee Lamb.
52
Jerry Jeudy, DEN @ LAC. Jeudy, Courtland Sutton, and Tim Patrick haven't been reliable in the easiest of WR matchups, so we're definitely not banging the table for any of them in one of the toughest matchups for WRs. We thought Drew Lock had the chance to open the passing game up, but all three Denver WRs were busts once again last week. Whether Lock or Teddy Bridgewater is at QB, all three are more likely to bust than to not.
53
Tyler Boyd, CIN vs. KC. See Ja'Marr Chase.
54
Braxton Berrios, NYJ vs. TB. See Elijah Moore.
55
Josh Reynolds, DET @ SEA. See Amon-Ra St. Brown.
56
Nico Collins, HOU @ SF. Collins and Chris Conley are interesting plays if Brandin Cook remains out on the reserve/COVID list in one of the friendliest matchups for WRs, but if Cooks plays, neither guy is tough to trust. Either one of them could serve as a DFS dart throw in that case, but they should remain on the bench or on waivers in regular fantasy leagues.
57
Allen Lazard, GB vs. MIN. See Marquez Valdes-Scantling.
58
Jalen Guyton, LAC vs. DEN. If Guyton clears COVID protocols, he's a decent boom-or-bust option since Mike Williams (reserve/COVID) will miss a second straight game. The matchup is tough, but these types of deep-shot players have similar outlooks regardless of matchup. If Guyton remains out, Josh Palmer is an attractive play in both formats, but it's tough to know exactly what to expect from him.
59
Chris Conley, HOU @ SF. See Nico Collins.
60
Josh Palmer, LAC vs. DEN. See Jalen Guyton.
61
Donovan Peoples-Jones, CLE @ PIT. See Jarvis Landry.
62
Tre'Quan Smith, NO vs. CAR
63
Marquez Callaway, NO vs. CAR
64
Rashod Bateman, BAL vs. LAR. See Marquise Brown.
65
Keelan Cole, NYJ vs. TB
66
Mecole Hardman, KC @ CIN
67
Marvin Jones, JAX @ NE
68
DeSean Jackson, LV @ IND
69
Courtland Sutton, DEN @ LAC. See Jerry Jeudy.
70
Laquon Treadwell, JAX @ NE
71
Curtis Samuel, WAS vs. PHI
72
K.J. Osborn, MIN @ GB
73
Nelson Agholor, NE vs. JAX
74
Nick Westbrook-Ikhine, TEN vs. MIA
75
Kalif Raymond, DET @ SEA
76
Antoine Wesley, ARI @ DAL
77
Laviska Shenault Jr., JAX @ NE
78
T.Y. Hilton, IND vs. LV
79
James Washington, PIT vs. CLE
80
Rondale Moore, ARI @ DAL
81
Sammy Watkins, BAL vs. LAR
82
Tim Patrick, DEN @ LAC. See Jerry Jeudy.
83
Chester Rogers, TEN vs. MIA
84
Dee Eskridge, SEA vs. DET
85
DeAndre Carter, WAS vs. PHI
86
Tyler Johnson, TB @ NYJ
87
Jauan Jennings, SF vs. HOU
88
Zay Jones, LV @ IND
89
Darius Slayton, NYG @ CHI